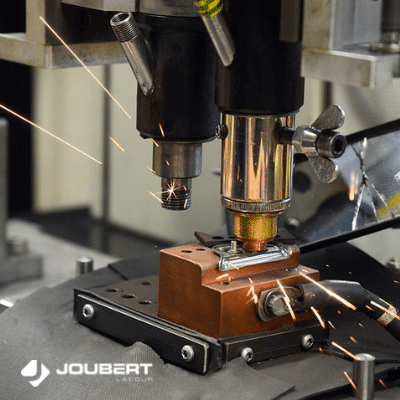 Back to news
Joubert Group acquiers the company Lacour
Joubert Group continues its external growth strategy and announces today the acquisition of the company Lacour, specialized in cutting, stamping, welding and assembly of sub-assemblies.
Posted on
29
/
10
/
21
Joubert Group acquiers the company Lacour
Joubert Group finalized today, October 29, 2021 the acquisition of Lacour, a leading specialist in high value-added technical steel parts, particularly in the automotive, sports equipment, weapons and industrial products sectors. With this acquisition, the group passes the €67 milions mark of turnover.
With decades of experience, Joubert Group capitalizes on its know-how (yarn extrusion, thermoplastic injection, weaving, braiding, knitting, cutting, sewing, leather and PVC wrapping) which has made its reputation and develops technical expertise in order to offer solutions that are best adapted to the evolving needs of its customers.
With the acquisition of Lacour, Joubert Group integrates a new know-how in particular in the stamping and the production of technical steel parts allowing it to complete its activities in the field of the automotive original equipment, the automotive equipment (bars and roof racks), the industry, the sport and to propose thus complete solutions to its customers.
This acquisition allows Lacour to benefit from commercial, administrative and industrial synergies within the Joubert Group, as well as operational and strategic support. For its part, Lacour brings technological know-how and technical expertise in stamping, tooling and sheet metal work.
The technological and commercial complementarity and the scope of the markets covered will boost the growth of both companies as well as their capacity for innovation.
Based in Peschadoires (Puy de Dôme), Lacour employs 35 people and has an annual turnover of around €7 millions. The company will continue to exist under the name Joubert Lacour and will be a subsidiary of the Joubert Group.